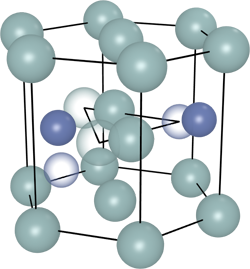 Our latest paper on alloying additions in Zr is now available as a pre-print on arXiv:
P.A. Burr, M.R. Wenman, B. Gault, M.P. Moody, M.Ivermark, M.J.D. Rushton, M. Preuss, L. Edwards and R.W. Grimes, "From solid solution to cluster formation of Fe and Cr in α-Zr", arXiv preprint (2015). PDF
By combining ab-initio simulations with advanced experimental techniques we investigate the microstructural change of Zr alloys under irradiation Zr alloys are used as nuclear fuel cladding, and their integrity is crucial for the safe production of nuclear power. Of particular concern is the increase in corrosion that is observed when Fe and Cr particles (alloys additions) are dissolved. Dissolution of these particles is related to neutron irradiation, but the mechanisms by which this occurs is still unknown.